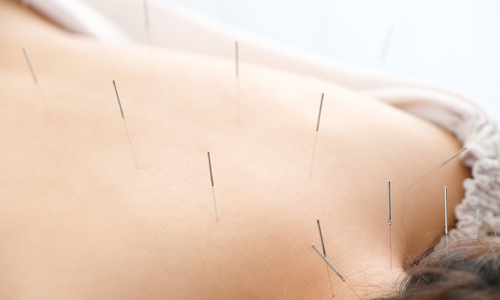 How Acupuncture Can Help Prevent Illness as Seasons Change
The flu, colds, and other viruses tend to circulate as the weather becomes colder every year. More people tend to get sick during the fall and winter months and staying healthy is more important than ever before. Acupuncture treatment offers a natural way to fight viruses that can cause many different types of illnesses.
How Acupuncture Protects Your Health
Traditional Chinese medicine targets six invading forces or excesses that can cause sickness. Depending on the time of year, damp, dry, summer heat, cold, or wind may weaken your immune system and increase your risk of illness.
During the winter months, cold and wind are often to blame for colds, flu, and other upper respiratory illnesses. Fortunately, the effects of cold and wind can be neutralized simply by balancing your Qi, the invisible lifeforce that travels throughout your body in a series of pathways called meridians.
Inserting hair-thin acupuncture needles into your skin frees trapped Qi, restoring balance. With the normal flow of Qi now restored, your body's immune system can better fight and kill invading viruses before they can make you sick.
Acupuncture treatments are also helpful if you already have cold or flu-like symptoms. Treatments help your body quickly get rid of germs, easing your symptoms and shortening the length of your illness.
In a South Korean case series published in the Journal of Traditional Chinese Medicine, patients with colds who were treated with acupuncture noticed significant improvements. In fact, their cold symptoms were reduced by 50 percent after the first acupuncture treatment. Colds only lasted three days in 95 percent of the patients who received acupuncture, compared to six days in another treatment group.
Two acupuncture points on the hand are often used to treat cold symptoms. Inserting acupuncture needles into the "common cold" or "sore throat" spots not only boosts the immune system but may provide almost immediate relief of sore throat pain, according to an article in Acupuncture Today.
Another key acupuncture point is located at the base of the neck. Treatment in this area improves blood circulation and may strengthen the skin, making it more difficult for viruses to enter your body.
Acupuncture treatment can also ease many of the symptoms that accompany colds and flu, including nasal congestion, headaches, trouble sleeping, difficulty breathing, and aches and pains in the joints and muscles.
Other Ways to Protect Your Health
Exercising regularly, following a healthy diet, and avoiding friends and family members who are sick can help you reduce the chances that you'll get sick.
Fortunately, acupuncture treatments and herbal medications can help you safeguard your health. Your acupuncturist can recommend a variety of herbal supplements and medications that will enhance the function of your immune system, help you fight cold or flu symptoms, shorten the length of your illness, and reduce the risk of bacterial infections as a result of the viral infection. Since herbal medications are most effective when you first develop symptoms, it's important to call your acupuncturist as soon as you feel unwell.
Don't put your health at risk this cold and flu season. Schedule an acupuncture appointment as soon as possible.
Sources:
Acufinder: Can Acupuncture Prevent Colds and Flu?
Acupuncture Today: An Extremely Effective, Simple Treatment for Colds and Flu, 5/04
Science Direct: Journal of Traditional Chinese Medicine: A Manual Acupuncture Treatment Attenuates Common Cold and Its Symptoms: A Case Series from South Korea, 12/15/16
NCBI: Journal of Pharmoacopuncture: The Concept of Wind in Traditional Chinese Medicine, 12/16